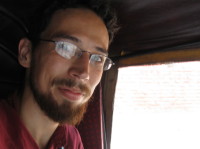 My name is Edward. I'm a Catholic lay evangelist and artist.
I have a Bachelor of Liberal studies from Iowa State University. And a Studio Art Bachelor of Arts from the University of Vermont. I'm currently applying for Graduate school to work towards a Masters in Theology.
As an artist, I pursue a variety of art forms, Installation Art, Sculpture, Painting, Photography and Creative Non-fiction Writing. But I am most interested in Contemporary Iconography, minimalist sculpture and short creative non-fiction. Another part of my artistic background is Architecture, which I studied for one and a half years at San Antonio College.
As a Catholic lay evangelist, I've served in various ministries from the parish level to the national level. I've also brought two groups to India to work with Mother Teresa's sisters, the Missionaries of Charity. While in India, I attended a School of Evangelization run by a Pontifical Lay Community for World Evangelization. Later, I was asked by a local ministry and a national ministry to speak to church groups and young adults. I have a section of information on India, if you are interested in serving in India.
Please peruse my site, and if you have any questions, please contact me.
May God Bless and Keep you,
Edward Alonzo.